Tehrik-e-Niswan's 30 years celebration - TLISM Festival continues..... !
To mark World Dance Day we present "THE SONG OF MOHENJODARO"-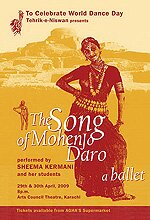 A ballet conceived and choreographed by Sheema Kermani. This ballet
was premiered in 1992 to rave reviews and great acclaim in the press and
media. It has been performed many times and always to packed halls.
The ballet tells the story of Peelu, a young man and his fiancée Bhairvi who wants
to become a dancer. Peelu forbids her to dance and is very angry. His friend Bihag
tries to cheer him up and they go down the river Indus and down in 'Time' to
Mohenjodaro of 2500 B.C.. What happens there and what happens when he
returns back to present times? This is The Song of Mohenjodaro - an exhilarating
one and half hour of classical and folk dance, drama and music!